DATE:

AUTHOR:

OpenWeb Team
DATE:
AUTHOR: OpenWeb Team
So long, sweet summer! As we gear up for Fall, we wanted to share a recap of our product updates and new releases from July and August 2021:
Topic Tracker
Topic Tracker is a new offering from OpenWeb that allows users to follow topics and authors that interest them. Users can receive timely in-site notifications when new, relevant articles are published. Contact your Partner Success Manager to learn more.
Product Highlights 
Seamless integration with your registration provider.

Easy implementation: we leverage the topic tags from your metadata eliminating the need for you to manually compile tags.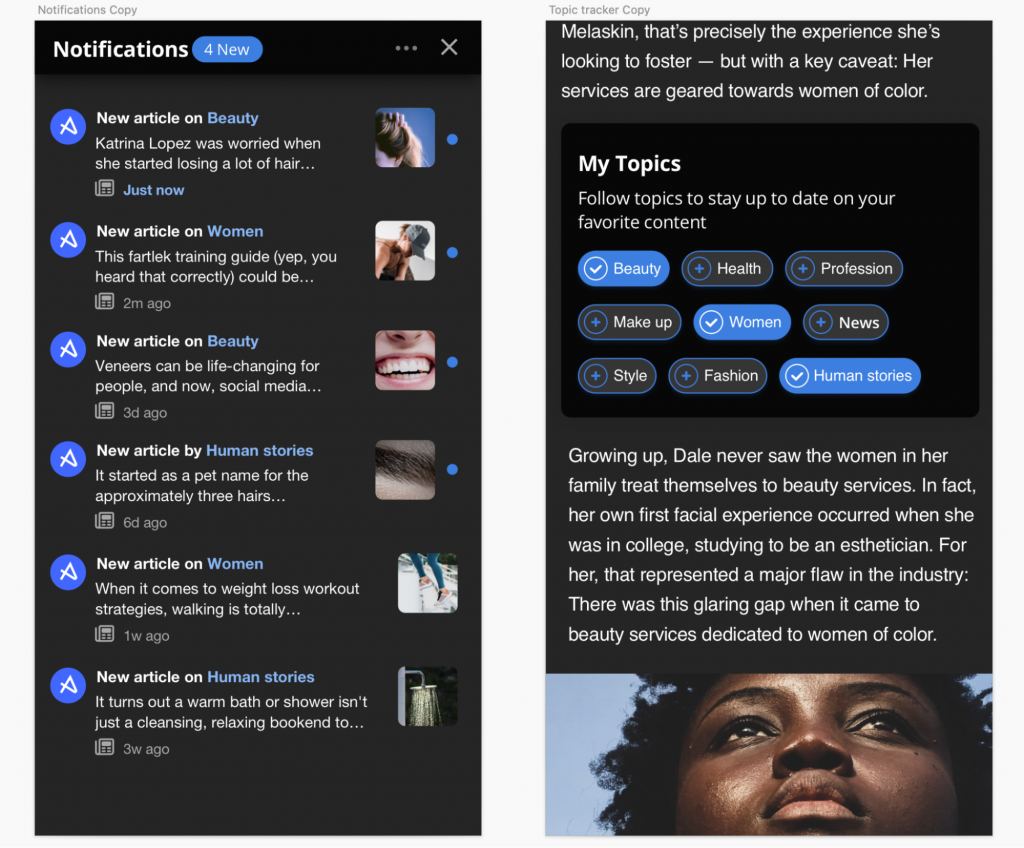 New Features
Feedback Modal
A brand new feedback modal is available for all OpenWeb partners. The new format allows partners a way to easily report bugs or provide recommendations. 

The feedback modal is currently available in English, Spanish, and Hebrew.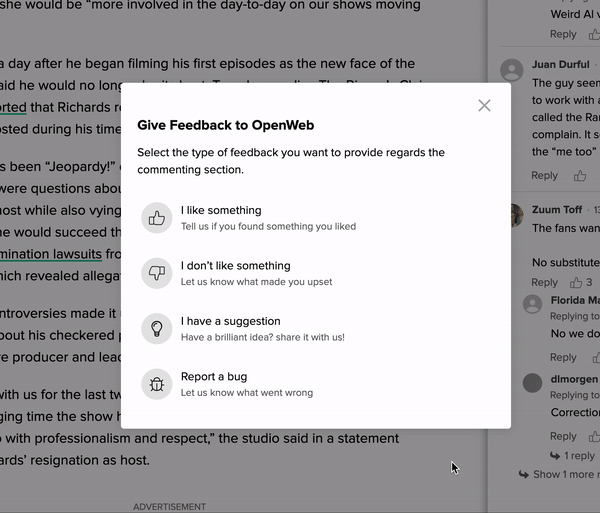 Spotlight
You can now use the counter card CTA to redirect users to a custom URL. An optional TOS disclaimer and can be added below the email collection form.
Native SDK
Enhancements
Conversation UI
We've been busy making adjustments to enhance the Conversation UI.  Comments will be truncated after 300 characters in order to display more comments per page. 

We also reduced the padding of the conversation on mobile screens in order to present more content.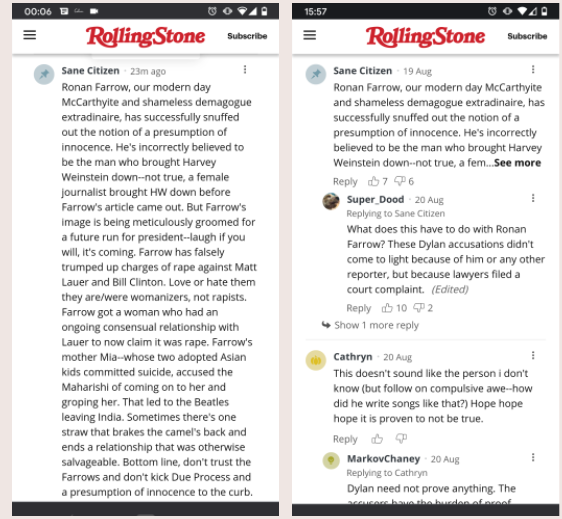 Clarity Mode
We updated the disclaimer language for images and emojis that require approval.   

Blacklisted users will no longer be able to view the suspension message.
Spotlight
We now have more options on how to display Spotlight. You can now embed both the email collection and the comment counter cards in the same site or page. See our developer documentation for more information.

Translations for the 21 languages we support are now available. 

We now support Dark mode. 

Improved protection from unintentional CSS leaks from the partner's stylesheet.

Design tweaks to improve responsiveness. 
Notifications
Various improvements to menus and notifications micro-copy. 

Save setting changes after one click. 
Native SDK
In-conversation images for iOS are now supported.
Bug Fixes
Conversation
Comment timestamp indication no longer overlaps with the context menu.

Context menu no longer shows infinite "Fetching Info" when logged in as a Journalist. 

Sorting loader no longer cuts off. 

Users can add usernames when using Firefox.

RichText Editor no longer remains open when tapping outside the text box on mobile.

Admin panel: fixed comments so they no longer appear unmoderated even after approved or rejected.

Muted users no longer flash when clicking on the privacy toggle.

Updated star ratings so they no longer present negative ratings when the first rating is deleted.
Native SDK
Refreshing the page no longer impacts replies. 

Larger ads no longer truncated in pre-conversation. 

"Add a comment" screen no longer locks in portrait mode.

Reported comments no longer reappear.

Improved clarity of reply text in dark mode. 
Notifications
Notification settings action buttons no longer appear out of screen.

Notification settings menu no longer closes and re-opens on 1st load.
Registration
Improvements to user migration from Disqus: Users now also see the OW onboarding screen and email validation.

Display names can now be set in any language.

Removed vertical scroll that appeared in some use cases.

Minor improvements to reset password flow.

Corrected error messages when user inputs are too long.